Would you believe it? Another week, and another new episode of the It's Got Star Trek podcast! In this new entry to our rapidly-expanding library of insightful, irreverent (and ultimately irrelevant) audio recordings, your hosts discuss the first two episodes of Star Trek: Discovery, 'The Vulcan Hello' and 'Battle at the Binary Stars.' There will be praise, there will be frustration, and, most importantly, there will be references to the Klingon blood scientist from Enterprise. Oh, before you ask, yes we will be covering the third episode, "Context is for Kings," next week since that is essentially a second pilot for the series. Note that this episode was not sponsored by Siggi's Icelandic-style Triple Cream Vanilla skyr yogurt, no matter what you think you might have heard.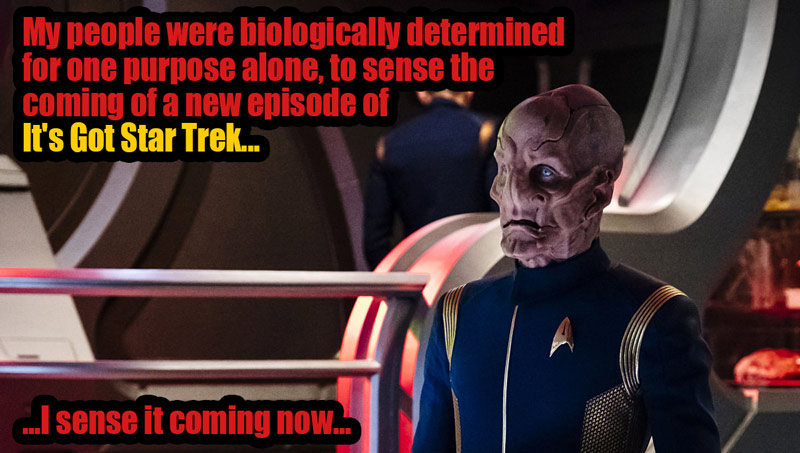 Subscribe to the It's Got Star Trek Podcast on Apple Podcasts, Google Play, Spotify, Stitcher, or whichever clever podcast app you are most fond of.
Note that this and all episodes of the It's Got Star Trek podcast contain explicit language and, frankly, an unnecessary amount of offensive content, so the show is intended only for adults and really really cool kids.
Please utilize one of the following options if you have an interest in contacting your hosts:
Email us at feedback@itsgotstartrek.com
Twitter us @ItsGotStarTrek
Instagramaphone us @ItsGotStarTrek
Facebookify us @ItsGotStarTrek
Telephone us at 202-456-1414
You can also visit www.itsgotstartrek.com and leave a comment or head on over to the It's Got Everything subreddit to join the discussion. Don't say we didn't give you options here!