Janeway and the gang goof up a planet, but everything works out in the end. Join your time-zone-agnostic hosts as they discuss the often tricky-to-navigate chasm between the ideal of the Prime Directive and the practical realities faced by Starfleet crews, the problem of fiction relying on disproven tropes about cultural evolution, and the fact that The Doctor seemed more agitated by sports rosters than being ripped away from his wife and child. All of the proceeding, and much more to boot, is poured straight into your earholes on this, the 31st episode of It's Got Star Trek!
Next week: We don our hot-weather gear to traverse the 'Desert Crossing' – episode 24 of Star Trek: Enterprise's first season.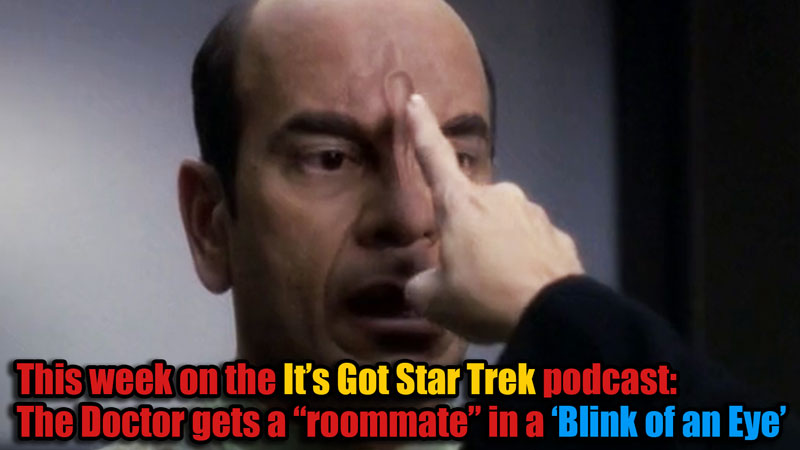 Note that this and all episodes of the It's Got Star Trek podcast contain explicit language and, frankly, an unnecessary amount of offensive content, so the show is intended only for adults and really really cool kids.
Check out the Feedspot list of Top 60 Star Trek Podcasts for 2020.
Please utilize one of the following options if you have an interest in contacting your hosts:
Email us at feedback@itsgotstartrek.com
Twitter us @ItsGotStarTrek
Instagramaphone us @ItsGotStarTrek
Facebookify us @ItsGotStarTrek
Watch a static image while listening to the podcast on YouTube
Telephone us at 202-456-1414
You can also visit www.itsgotstartrek.com and leave a comment or head on over to the It's Got Everything subreddit to join the discussion. Don't say we didn't give you options here!